---
Strategic Initiatives
Our mission in the Missouri Department of Corrections is to improve lives for safer communities.
Our strategic plan serves as a road map to guide us in that mission. Strategic initiatives — the actions we take to achieve our goals — support three major themes:
Creating a safer work environment
Developing our workforce
Reducing risk and recidivism  
---
Fiscal Year 2022 Wins
Transformation of Kansas City Reentry Center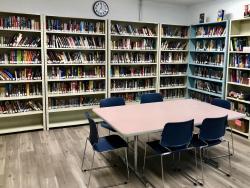 With a decline in demand for institutional beds in state prisons, the Department of Corrections had an opportunity to transform the Kansas City prison into a post-release center designed to address the reentry needs of men returning to the Kansas City Metro area after incarceration. This initiative helps facilitate the transition from institution to release, boosting their success by providing education, treatment, job placement, wraparound services and more in a probation and parole residential environment. The new Transition Center of Kansas City is equipped with housing for 150 clients and workspace for 106 staff, as well as classrooms, computer labs, a professional-attire lending closet, programming space and recreation areas.
The Corrections Way Training for Frontline Staff
The department trained 1,800 frontline and new staff in The Corrections Way, our customized training model that prepares and equips staff to identify, teach, demonstrate and reinforce critical skills that cultivate a positive, productive, safe work environment. This initiative results in teammates who understand how their work contributes to the overall mission and success of the department.
Learning Management System for Staff Training
Running our institutions and carrying out our public safety missions require specialized training and a method for exchanging and furthering our knowledge. The team launched a learning management system selected by the department for managing in-seat and online training and other required educational tasks. The new system allows staff to maintain and improve skills while reducing time away from the worksite. The more flexible model also improves responsiveness not only to staff members' different learning styles but also to the department's operational needs.
Implementation of Onboarding Process for New Staff
The department implemented new processes and forms developed to promote a consistent orientation of all new employees in department locations statewide. The goal is to increase employee retention by fully engaging each new staff member at the start. 
---
Completed Initiatives
Safer Work Environment
Safety Improvements in Offices & Training Centers
Corrections can be a risky business, and we want all team members to feel safe when they come to work. Through this initiative, we improved safety at regional offices, training centers and Central Office with new equipment and the development of safety plans.
Hostage Negotiation


Through a partnership with Missouri State Highway Patrol, hostage negotiation teams have been created and have provided this essential training to Department of Corrections staff.

Prison Seminary Program 


This initiative provides offenders serving life or lengthy sentences with an opportunity to earn a degree in counseling and divinity in preparation to become peer pastors. These peers assist other offenders inside Missouri prisons. The memorandum of understanding (MOU) was finalized with Hannibal University, with classes scheduled to start in summer 2020.

Probation & Parole Office & Facility Safety


Following an assessment of all Probation and Parole facilities, recommendations have been made regarding safety improvements for consideration in future fiscal years. Probation and Parole leaders are developing a plan to review and implement appropriate recommendations.

Consistent Entry Practices


Controlling the flow of visitors and staff into institutions helps improve the security of the sites. All Division of Adult Institutions facilities now have a consistent process at entrances, through which all visitors and staff are screened and processed through.

Youthful Offender Unit 


We created a new paradigm for working with incarcerated juveniles with the aim of mitigating the negative effects of incarceration. The initiative provides for developmentally appropriate supervision that will positively affect youth and prepare them to successfully reenter their communities or transition to the general prison population

.
Improving the Workforce
Onboarding for Frontline Staff
P

rocesses and forms were developed for new hires to promote a consistent orientation of all employees in all department locations statewide. The goal is to increase employee retention by fully engaging each new staff member at the start

. 

Employee Wages
C

orrections employees are among the lowest paid workers in the United States. To help improve our workforce, we obtained the largest-ever pay increase for department employees. We hope retain and support employees who choose to make corrections a career. Employees received a wage increased based upon number of years served at the start of FY2020

.

Mental Health First Aid
C

orrections is a stressful job that can take a toll on the physical and mental health of those working in the profession. Staff have been trained in Mental Health First Aid (MHFA) to help them recognize potential mental health situations and access resources that assist the person in need before the situation escalates

.

Justice Reinvestment Initiative (JRI) Communications
I

n 2018, the legislature passed a number of laws aimed at improving the criminal justice system in Missouri. To support these changes, we developed a communications strategy to provide relevant, timely and integrated information to staff, clients and the public about the projects and initiatives that support implementation of JRI directives and resulting evidence based practices

.

Analysis for Efficiencies in Missouri Vocational Enterprises Operation
M

issouri Vocational Enterprises (MVE), is a key player in developing and maintaining the corrections brand. To keep MVE competitive and operating efficiently, we completed a comprehensive evaluation of its operations. The evaluation helped to identify operational efficiencies, enhance the customer experience, recognize savings that can be passed on to the customer, and ensure offenders are developing marketable skills

.

Program Assessment
O

ur staff are most effective at correcting unwanted behavior when they have the proper tools in place to effect this change. We contracted with national corrections experts to assess program operations at 17 institutions. This assessment produced a number of recommendations to improve programming, which become a part of the FY2021 strategic plan

. 
Reducing Risk & Recidivism
Parole Release Guidelines
A renewed focus on ensuring we are using best practices and risk-based assessment is helping to drive our decisions. We worked with national experts to refine release guidelines and support readiness-based prison release decisions. We developed decision-making tools in line with evidence-based practices that provide a structured behavioral focus to support release deliberations.
Opioid Initiative


O

pioid abuse is a national crisis. Women who are pregnant are extremely vulnerable to the impacts of opioid abuse. The department secured grant funding that expands the Healthy Pregnancy Workshop curriculum to include opioid information and education

.

Offender Construction Crews




Providing meaningful work for the offender population while reducing building costs for the state is win-win proposition. Planning for construction work crews staffed by offenders has been completed, and a process for identifying and assigning offenders to projects is in operation

.

Reentry Unit Data Reporting




People exiting prison face unique challenges to societal reintegration. We developed a data-sharing paradigm that identifies the information needed to ensure individuals have key documents, contacts, employment and service connections as they approach the release date

.

Crisis Intervention Team Reports


Prison Crisis Intervention Teams (CIT) now share intervention reports with Division of Probation & Parole staff as well as local law enforcement when an offender is released from custody. These reports document incidents in which offenders were in crisis and also recount the de-escalation techniques used to stabilize them and provide community partners with key information to help improve outcomes once the individual returns to the community

.
Detailed strategic initiative information is available to staff on the K drive.