---
In the Department of Corrections, we want our staff to grow professionally and personally. As a staff member, you have access to multiple education benefits, from free online courses to higher-education tuition discounts.
MOST 529
Missouri's 529 education plan is an investment account you can use for education savings. Earnings grow federally tax-deferred, and qualified withdrawals are tax-free. 529 accounts can be used to pay for 2- and 4-year colleges, post-secondary trade and vocational schools, postgraduate programs, and K-12 public, private, and religious institutions (tuition only).
Professional Development
MO Learning
Online training in a wide variety of topics can be accessed through MO Learning, powered by LinkedIn Learning. Department of Corrections staff can advance their professional development for their current roles and potential future roles. Over 7,000 courses are available. Popular topics include administrative, business, computer/mathematical, and community and social services.
Missouri Way
The Missouri Way is an intensive 3-day training program that gives emerging leaders the tools to solve basic management challenges and improve their team's performance. The training is a mix of classroom instruction and individual and group exercises.
Missouri Leadership Academy
The Missouri Leadership Academy builds better leaders by bringing together leaders from all 16 executive departments. Emerging leaders prepare to take on new responsibilities and roles through this innovative training program.
College and University Discounts
Colleges and universities partner with the Missouri Department of Corrections to expand education opportunities for staff. Many provide tuition discounts and offer college credit for completion of corrections training. See the complete list for more information.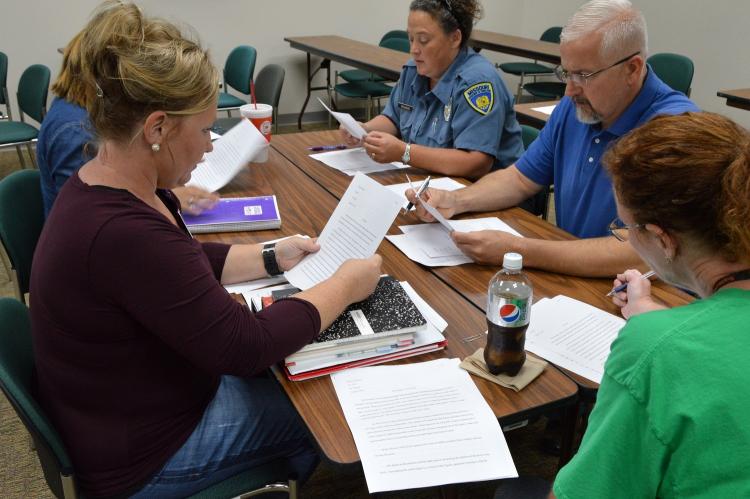 Ashland University: 10% tuition discount and scholarship eligibility
Baker University: 15% tuition discount
Columbia College: discounted rates to all MO state employees: $337.50/credit hour for undergraduate and $441.00/credit hour for graduate; Partners in Corrections program discounts; free textbooks
Culver-Stockton College: 10% tuition discount
Drury University: Criminal Justice Program; credit hours for Department of Corrections training: 6-9 credit hours (Corrections Officers) or 6 credit hours (non-custodial staff) for training completed at the DOC Training Academy and for on-the-job training completion; with completion of additional OJT and certification from your personnel department custodial staff will be awarded 9 credit hours
Missouri State University: 10% tuition discount; 15% discount on MSU Public Safety Training Center courses and/or other non-credit courses
Park University: Criminal Justice Administration Program or email emma.blankenship@park.edu for more information; 10% tuition discount; application fee waived
Purdue Global University: 20% undergraduate and 14% graduate tuition discounts; criminal justice programs; credit hours for Department of Corrections training
Rasmussen College: Justice Studies; 10% tuition discount
Rockhurst University: Free on-site college courses at Chillicothe Correctional Center  
Saint Louis University: Free on-site college courses at Eastern Reception, Diagnostic and Correctional Center
Truman State University: Justice Systems Program; 10% tuition discount
University of Central Missouri: 5% tuition discount online and Lee's Summit campus; 15% discount for certifications and training through the Missouri Safety Center and Extended Studies; credit hours for Department of Corrections training
University of Phoenix: Prior Learning Assessment (PLA) provides an ability to convert on-the-job training and workplace certifications for college credit; Criminal Justice Program
Washington University: Free on-site college courses at Missouri Eastern Correctional Center; staff at Missouri Eastern Correctional Center are eligible to enroll in one free online class per semester 
Western Governors University: 5% tuition discounts; scholarships; credit hours for Department of Corrections training